Pendleton Woolen Mill Store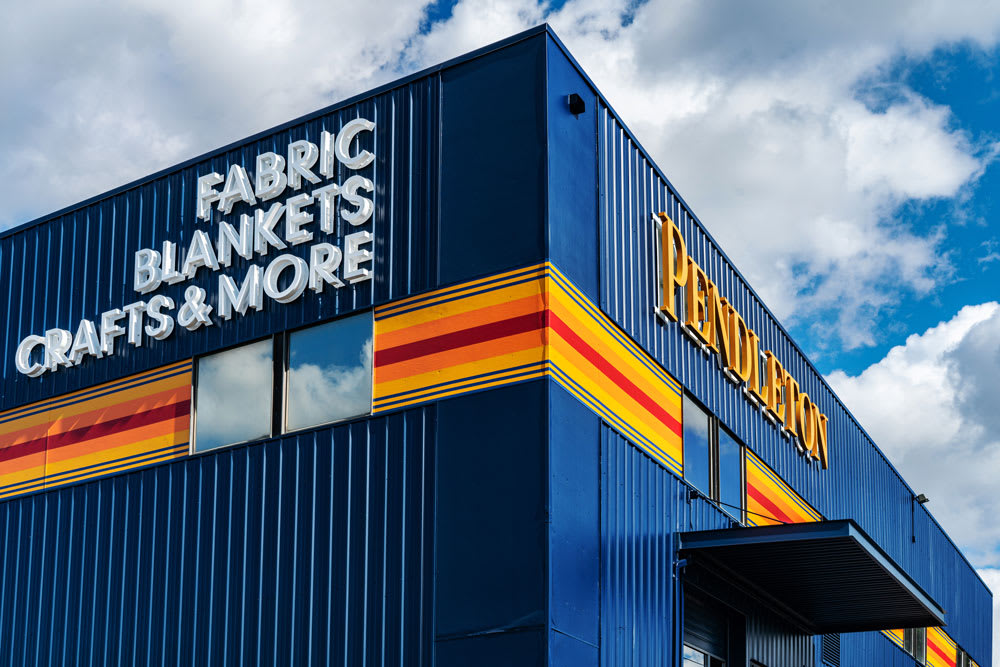 The Woolen Mill Store is home to a vast selection of Pendleton fabrics, from our two USA woolen mills. We specialize in superior virgin wool fabrics in an assortment of vibrant colors and patterns to fuel your creative inspiration, housed in a converted factory that echoes with Pendleton's history. With an array of notions, patterns, yarns, and supplies, the Woolen Mill Store offers unique high-quality materials for artists and craftspeople alike.
Pendleton Fabrics
Pendleton has a long history of encouraging home sewing, and the Woolen Mill Store has over 200 Pendleton fabrics on the roll: blanket weight cloth, coating, flannel, worsted, gabardine, herringbone, hounds tooth, Melton, apparel, plaids, tweeds, and our sustainably produced Eco-Wise Wool. We also sell remnants and imperfect yardage as part of our commitment to running our mills with zero waste.
Pendleton Notions and Supplies
The Woolen Mill Store sells yarn, buttons, bindings, kits, books, patterns…we have more supplies than we can list here. The Woolen Mill Store also offers 100% wool yarn sold on cones by the pound, great for knitting, crochet, spinning and weaving. Weekly deliveries from Pendleton's mills bring multicolored selvage and blanket trimmings prized by crafters all over the county for rugs and other creative pursuits.
Blankets, Apparel, Accessories & More


The Woolen Mill Store is more than just a fabric store. We also carry a wide selection of Pendleton blankets, along with a current selection of apparel, accessories and gifts. Our Pendleton lifestyle "rooms" are another source of inspiration. You'll find plenty of ideas for home décor, and gifts for everyone.
How To Find Us
8550 SE McLoughlin Blvd.
Portland, Oregon
503-535-5786
866-865-9285
Hours:
Monday - Saturday 10am - 5:30pm
Sunday 11am - 4pm
Email us at: woolenmillstore@penwool.com
To find out about our latest fabric and yarn selections, classes, craft contests, cool new projects and more, Visit our blog